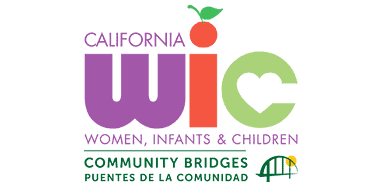 Watsonville, CA – Starting June 1, families participating in the Community Bridges WIC program, will see a temporary increase in their monthly fruits and vegetables benefit to 
$35. The fruits and vegetables benefit increase will be issued from June 1, 2021 through September 30, 2021. Benefits are good for 30 days from the date they are issued. For example, benefits issued on September 27 can still be used through October 26.
Currently, children ages one to five receive $9 per month, and, pregnant, postpartum, and breastfeeding women receive $11 per month.
The fruits and vegetables benefit has a significant impact on the dietary quality of WIC families. Eating a diet high in fruits and vegetables reduces the prevalence of chronic disease and strengthens the immune system. This increased benefit will allow families enrolled in the WIC program to buy and consume healthier fruits and vegetables.
"The nutritional quality of the WIC food package is the cornerstone of our program.  Tight food budgets make purchasing healthy foods more challenging," said WIC Program Director, Dana Wagner. "I am thrilled that this change will allow increased access to healthy fruits and vegetables and help to improve the nutrient content of our participants' diets."
Funding from the American Rescue Plan Act allowed the California WIC program to enhance the program's fruits and vegetables benefit for the summer.
California residents can learn more about the summer fruit and vegetable increase by going to MyFamily.WIC.ca.gov or calling Community Bridges WIC Program at 831-722-7121.
ABOUT THE COMMUNITY BRIDGES WIC PROGRAM
The Community Bridges WIC Program opened in February 1977. Each year, it serves more than 800 pregnant women, 900 breastfeeding women, 1,600 infants, and 5,000 children across Santa Cruz County.  The programs include innovative on-site and on-line nutrition and breastfeeding education, food demonstrations, healthy recipes, and cooking tips. Staff also provide breastfeeding peer counseling,  hemoglobin screenings, and health care referrals.
For more information, please visit www.communitybridges.org/WIC
ABOUT COMMUNITY BRIDGES
Community Bridges envisions a thriving community where every person has the opportunity to unleash their full potential. Together, our family of programs delivers essential services, provides equitable access to resources, and advocates for health and dignity across every stage of life. To learn more, please visit www.communitybridges.org.
The Community Bridges family of programs includes the Child & Adult Care Food Program, Child Development Division, Women, Infants and Children (WIC), La Manzana Community Resources, Live Oak Community Resources, Mountain Community Resources, Nueva Vista Community Resources, Elderday Adult Day Health Care, Lift Line and Meals on Wheels for Santa Cruz County.